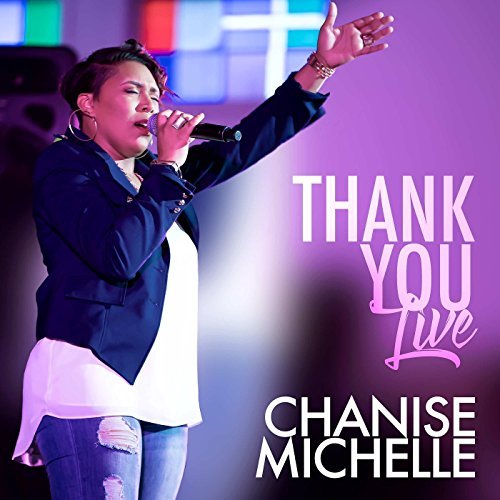 Multi-talented singer and musician Chanise Michelle has a heart full of gratitude. The songwriter, worship leader and former member of the Gospel group, N'Tegri-T, wants to share her thankfulness to God with the entire world. Her new single, "Thank You", gives her an opportunity to do just that. An artist who's been blessed to open up for singers such as Mary Mary, Kirk Franklin, Kim Burrell, Kierra Sheard, and Le'Andria Johnson, Chanise Michelle is excited about the brand new release of her single, "Thank You". The new track is available on iTunes, Amazon, Google Play and other digital outlets.
The up-tempo track showcases a fun side of the artist. She says, "I believe listeners will truly enjoy 'Thank You'. The song is upbeat, yet laidback, hopeful and even a little trendy," she says. The track allows her to flow in a celebratory space as she delivers an inspirational message with personality. Not one to be boxed in musically, Chanise Michelle uses all types of melodies, rhythms and sounds to convey her heart and to uplift the believer. Fluent in neo-soul, contemporary Christian, soul, praise and worship and contemporary Gospel music, she knows how to execute a song with a passion that comes through in every note.
"Thank You" is the vocalist's sophomore offering. The track will be featured on the upcoming debut EP the artist plans to drop in 2018. Her first single was the worshipful track, "For Who You Are". The heartfelt ballad has moving lyrics sung directly to God. The song, perfect for times of intimacy with God, is a favorite at Chanise Michelle's concerts. Worship is what she loves to do and it's hard to miss that fact listening to her songs. It's her heart's desire. She says, "I want to create music that compels people's heart to experience an amazing wonder of God and a clarity of His purpose for their lives. I want people to be able to feel Him. That's what happens in worship. He has equipped us with everything we need in worship. At the end of the day, that's what we were created to do. I want to prepare people's hearts to worship God."
Clearly a worshiper at heart, Chanise Michelle is the Worship Leader of Grace United Church of Christ in Sauk Village, Illinois. The native Chicagoan has been a lover of music from her youth. Musical talent flows through her veins. Her musical talent comes from her parents; her father was a musician who played bass and drums and was a member of a band and her mother would often sing lead. She was a member of her church's choir and praise team at New Faith Baptist Church International Church in Madison, IL. Later, she learned the piano and the acoustic guitar and turned poems into songs. Prior to launching as a solo artist, she was a member of a Gospel ensemble called Integrity. Featuring seven women, the group sung God's praises together around the Chicagoland area, and received opportunities to perform at numerous concerts, and platforms such as a The Word Network in 2011 and a Pre-Show concert for the Stellar Awards in 2012. During those years they recorded their debut single entitled "Keep Me Safe". Chanise Michelle has also been featured on a number of other artist's projects in the Chicago area. For more information on Chanise Michelle, log on to www.chanisemichelle.com. Connect with her on social media at Facebook, Twitter and Instagram.