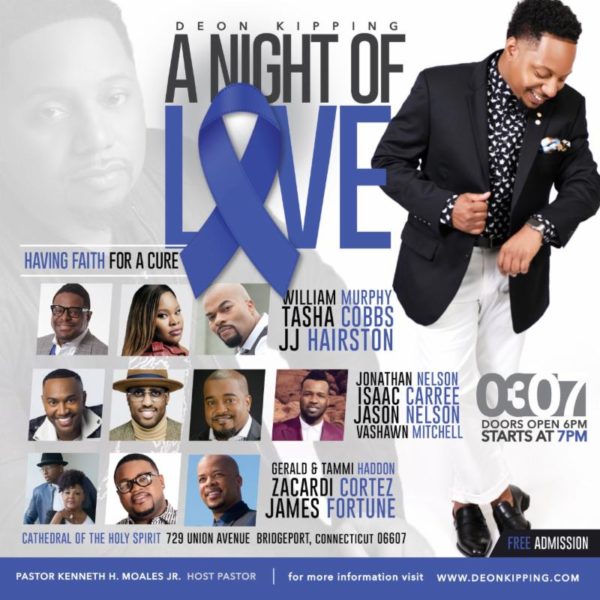 Deon Kipping announced over a month ago on social media  that he had cancer, and asked for our prayers.  Kipping has since  undergone 5 weeks of treatment, and his peers in the gospel community came  together last week to help pay his medical expenses.
Last week  gospel stars William Murphy, Tasha Cobbs, JJ Hairston, Jonathan Nelson, Isaac Carree, Jason Nelson, VaShawn Mitchell, Gerald and Tammi Haddon, Zacardi Cortez and James Fortune came together for an event called "A Night Of Love" at Cathedral of the Holy Spirit church in Bridgeport, Connecticut.
A number of gospel artists like William Murphy, VaShawn Mitchell, and Tasha Cobbs promoted the benefit concert event on their social media pages while asking their followers to donate to the cause.
"We're standing with our brother #DeonKipping today, and as a Body, we're going to collectively lift this burden. God dealt with the cancer, now we're going to deal with the debt," a message on Murphy's page reads. "All we need is 1,900 of you to stand with a $10 love offering, because I'm sowing the first $500, and declaring #samegrace! If God did it for Deon, He'll do it for us!"
Following the event, Kipping took to this social media to give thanks.
"I woke up this morning speechless! I try to help so many people, it's been something my grandfather instilled in me," he wrote. "I personally have never experienced acts of kindness of this magnitude. I didn't ask for it. I don't deserve it, but I am so grateful!