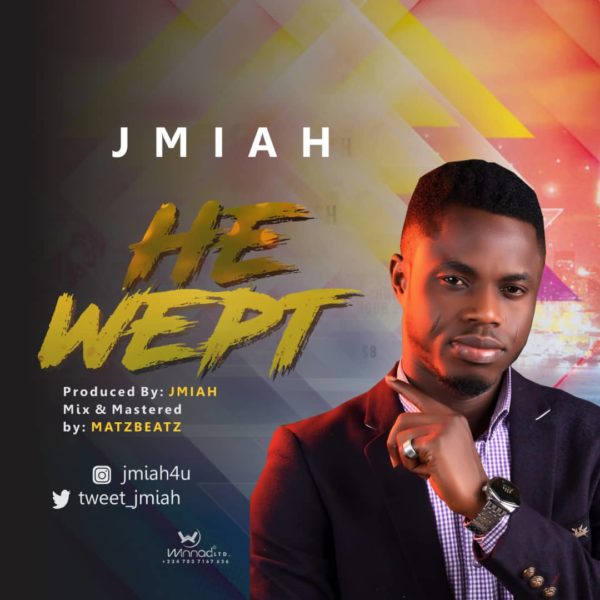 Jmiah releases a new single titled 'He Wept'.
Jeremiah Oseghale Ikearu, musically known as Jmiah, is a renowned contemporary gospel musician, song writer, music producer, a composer and a music instructor.
He is from Edo State, Nigeria, He graduated from Ambrose Alli University, Ekpoma, where he studied Industrial Mathematics, And he is born into a family of 5, a family of musicians, where he is the last child of the family, and he has been a blessing to the world since he was born, as he has served as Music director in several churches, Keyboardist, and many more up till date, He is Blessed with several skills and abilities and he is also a bassist, drummer etc… And he has been on the music scene for a while now.
Jmiah released his first EP album in 2017, titled Best In The World, an EP of 6 tracks and has since recorded several other songs, inspiring and spirit filled songs, but soon to be available to the world.
His music have been inspired by His Pastor,  Pastor Chris Oyakhilome the founder and President of Loveworld, aka Christ Embassy, and also his Regional Pastor, Pastor Gabriel and Pastor Mrs Pauline Omorogieva, His family, the Ikearu's and above all, God. And he is now a Loveworld music star.
His early years was simply about one thing, and that was music. As he became a keyboardist and a drummer at a tender age of about 14yrs, way back in Anglican church, Irrua, his home town in Edo state. And ever since it's been upward and forward only.
He has since grown to become a full time Gospel musician, inspired by several friends and above all God.
'He Wept' is a heavenly song inspired by the vicarious death of Jesus Christ, and the sacrifice he gave to mankind, thinking about all he went through for us.
Listen, Enjoy and Share!