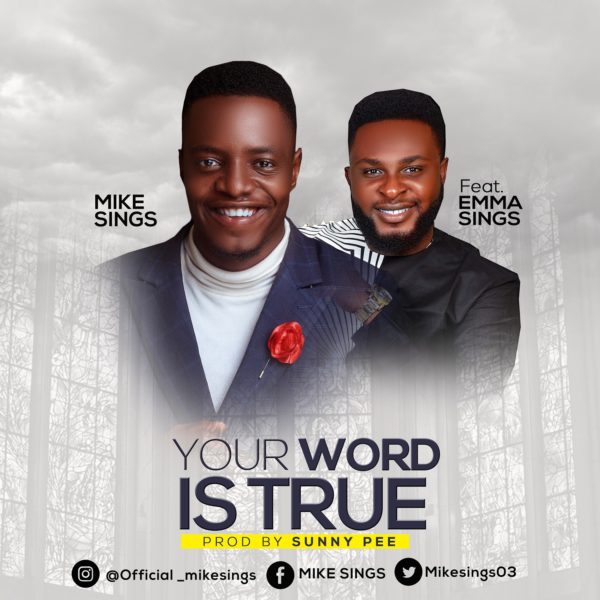 MikeSings collaborates with EmmaSings to churn out this fantastic worship piece titled – "Your Word Is True."
Produced by the award-winning music maestro, Sunny Pee, the song states unequivocally that God's Word is true and infallible.
Nwabuakwu Michael known as Mikesings, hails from a family of five boys in Delta state, Nigeria.
He is a sensational worship leader called out to reach humanity with the gospel.
Mike is a graduate of Delta State university where he studied Fine and Applied Arts (Graphics). He is founder of Mikeart creation.
Stream & Download Audio Below; 
Lyrics: Your Word Is True By Mikesings Ft. Emmasings
Solo 1:
(Mikesings)
You're stepping on holy ground where your prayers are already answered
You fasting and praying hard for a miracle to happen now
I want you to know that he is here
I want you to know that he is here
Chorus:
On this ground I stand
On this ground I stand
Your word is true
Your word is true
On this ground I stand
On this ground I stand
Your word is true
Your word is true
Ta na na
Ta na na
Oh jesus
Jesus
Solo 2:
(Mikesings)
Go to the place where your breakthrough is coming from
Go to the place where your healing is coming from
The source is jesus
Jesus my lover
The source is Jesus alone
Chorus:
On this ground I stand
On this ground I stand
Your word is true
Your word is true
On this ground I stand
On this ground I stand
Your word is true
Your word is true
Solo 3:
(Emmasings)
Your word is yes and it is amen
Response: (Jesus)
Every word you speak can never fall to the ground
You're not a man that
You should lie
Response : Jesus
So I am standing on every word you spoken
Bridge:
So I call you Jesus your word is true
Everything you say would come to pass
Chorus:
On this ground I stand
On this ground I stand
Your word is true
Your word is true
On this ground I stand
On this ground I stand
Your word is true
Your word is true
Your word is true x4
Jesus