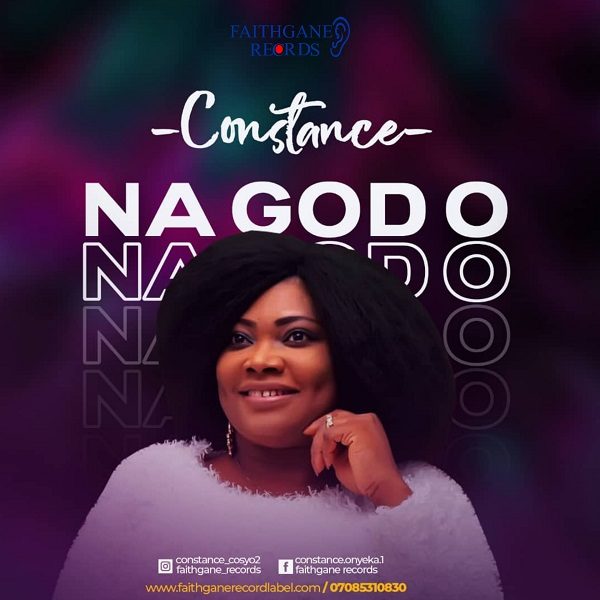 Constance, a gospel music minister signed unto Faithgane Record, drops a brand new single titled "Na God O" produced by Orbz.
"Do you remember all you have been through; the up and down rhythm of life – What comes to your mind?" Reflecting on her life, Constance admits It can only be God, that has brought her thus far – "Na God O."
Constance is a music lover and multi-talented songwriter with over 400 songs of different genres in her catalogue.

Stay Safe!! Stream & Download Audio Below; 
Lyrics: Na God O By Constance
If you no look me well well o
You no go know me again ah
Even if you know me before
You fit no know me again because my life don better ah
[Verse 1]
Before before
No good thing in my life
People change me to laughing stock
When I dey waka
Na so shame go dey catch me
Poverty nearly finish me ah ah ah ah
But today come see my life
I dey shine
My own don better
I get good job, good house with plenty money
If you ask me na God O.
[Chorus]
Call: So I say if God nor build the house
Response: The builder build am in vain
Call: If God no watch over the city
Response: The watchman watch am in vain
Call: If God no make the seed grow
Response: The planter plant am in vain
Call: Nor be by power no be by might o
Response: Na God o
Na God o
Call: Na God o
Na God o
Response: Na God o
Na God o
Call: Nor be by power no be by might o
Response: Na God o
Na God o
Call: Na God o
Na God o
Response: Na God o
Na God o
Call: Nor be by power no be by might o
Response: Na God o
Na God o
[Verse 2]
Since I know God
He don change my life
He took my sorrow turn am into joy
Anything I touch
Just dey prosper
He took me from grass to grace
From story to glory
From zero to hero
From nothing to something eh
It is not by my hustle
Not by my struggle
It's by the grace of God that my life is turning on e own o
[Repeated Chorus]
[Bridge]
Mmmh
Turned my life around
Make my life better
Only you can do
What no man can do
[Repeated chorus to fade song]