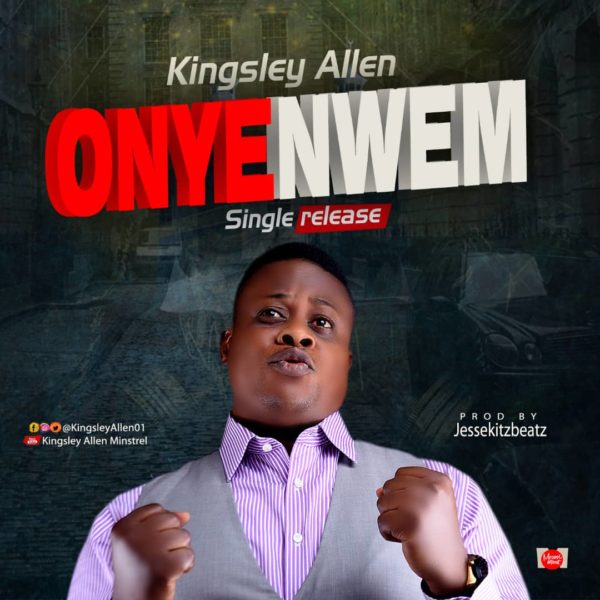 Kingsley Nwabueze Allen, has released a brand new song titled, "Onye Nwem", which means "My Lord".
The new song produced by Jessekitzbeatz expresses Kingsley'ss appreciation to God for how far He has brought him in the journey of life.
Kingsley Allen is a Minister of the Gospel of Christ with a passion to edify Christ's church with his music.
Stream & Download Audio Below; 
Lyrics:  Onyenwem By Kingsley Allen
Intro:
Non can Compare. You're Great.
Verse 1:
Onye Nwem Chineke, Agame nye gi ekele
(Lord my God I Give you thanks)
Ni'he na Oluoma gi juputara uwa nile
(because the earth is full of your wonders)
Onye Nwem Chineke, Agame nye gi Otito
(Lord my God I Give you Praise)
Ni'he na odighi Chi di ka gi
(because no god compares to you)
Chorus:
Adonai you are the Covenant Keeping God
Who can fathom your great Splendor?
My maker and my King
Onye Nwem (2x) ooooo
(My Lord)
Ne'ligwe Ne'luwa odighi Chi di ka gi
(No god compares to you in Heaven and earth)
Verse 2:
Chukwu nna Nani gi bu Chim o
(My Father you are my God)
Odighi onyem ge ji ma nyeregi atu le
(Non compares to you)
Jehovah (3x) mba nile Juputara na' amara gi
(The earth is full of your wonders)
Jehovah (2x) Oji ji Jide nma e,
(You have the final Say)
Nara………. Ekele…
(Thank you)
Chorus:
Adonai you are the Covenant Keeping God
Who can fathom your great Splendor?
My maker and my King
Onye Nwem (2x) ooooo
(My Lord)
Ne'ligwe Ne'luwa odighi Chi di ka gi 2x
(No god compares to you in Heaven and earth)
Adonai you are the Covenant Keeping God
Who can fathom your great Splendor?
My maker and my King
Onye Nwem (2x) ooooo
(My Lord)
Ne'ligwe Ne'luwa odighi Chi di ka gi 2x
(No god compares to you in Heaven and earth)
Vocals: Emmanuel we bless your name, you are worthy of our praise Jesus
You are the King of Glory; you are the beginning and the end
You are the Lion of the tribe of Judah, Emmanuel we worship you
Oh, wave your hands and say (we bless you Jesus)2x
Chants…