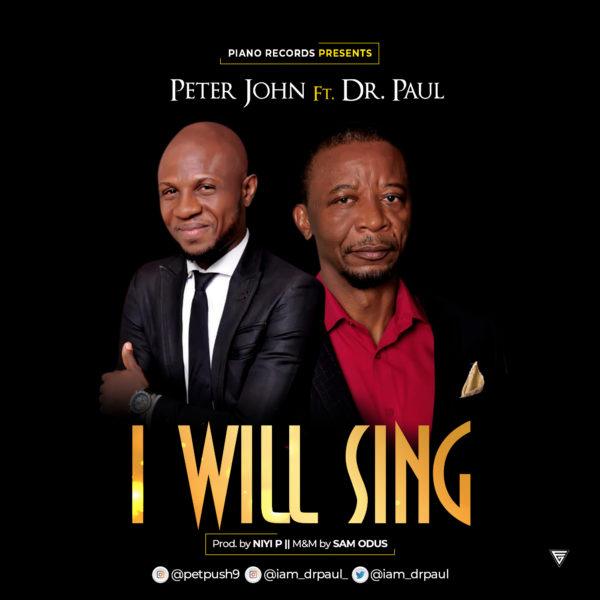 Peter John strikes out in this beautifully crafted worship song titled 'I Will Sing'.  He features our very own Dr. Paul, who just wrapped up a major promotional of the Rock That Never Fails that featured songstress, Preye Orok.
In this song, Peter John announces his arrival in the gospel music scene with very strong vocals and powerful delivery. Both singers pack this song with such strength and vigor that the listener wants to keep this on repeat.  Produced by Niyi P,  one of the front-row producers in Nigeria, and mixed and mastered by Sam Odus of Newtrend Studios.
Listen, Enjoy and Share!
Lyrics: I Will Sing By Peter John Ft. Dr. Paul
Vs 1
You are lifted up on high
Oh great and mighty God
You are seated high above
And we're looking up to you
Let our praises ascend unto you
Oh great and mighty God
Here we stand
Pre-Chorus
You are holy (you are holy)
You are worthy (you are worthy)
You deserve honor and praise
You are faithful (you are faithful)
You are beautiful (you are beautiful)
You deserve honour and praise
Let our lives and our hearts come to you
Lift a sacrifice of praise
Chorus
I will sing all my praises to God on high
Lift up my hands to worship you Lord
Let our lives and our hearts come to you
Lift our hands to worship you
Vs 2
You are glorious and kind
Oh so great and mighty God
You are powerful and grand
You're the majesty our King
You are faithful and worthy and holy
Oh great and mighty God
Here we stand