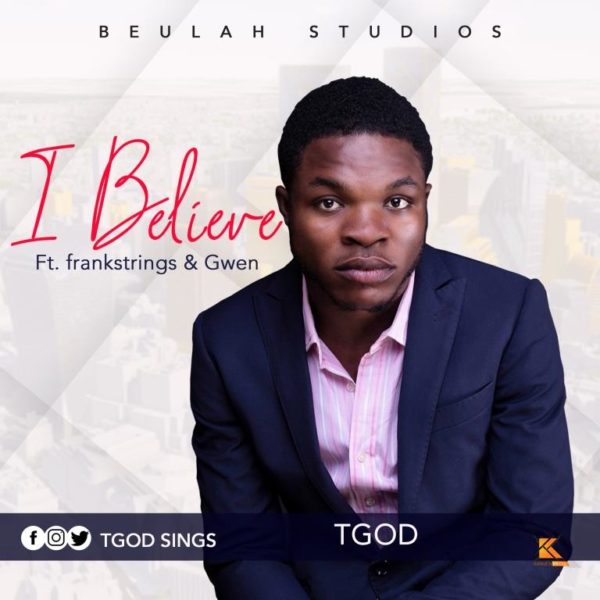 Rising Gospel music sensation, Analo Thankgod also known as TGod has released a brand new inspirational single titled "I Believe".
"After imagining all God did and is doing, both through nature and through me, I was urged to pass to others through this piece the power and acts of God". – TGOD
TGod is a graduate of Chemistry Education from Nnamdi Azikiwe University, Awka – NIGERIA. He is a preacher, music minister.
Listen, Enjoy and Share!
Please specify the URL of your file
Lyrics: I Believe By TGOD Ft. Frankstrings & Gwen
Hmmmmm yeah …….
Oh we bless you Jesus, uhuuh
We proclaim your majesty, we adore your holy name
(We forgo ourselves to you forever, hmmmm forever) 2*
I believe in your power & might
I believe in your grace i believe
I believe in you all day and night
I believe in spring, summer & rain
Chorus: [I believe (3) Yes I believe] 2
I believe in what you can do, only you (only, only you)
I believe in your fervent presence
I believe in you all day & night, I believe,oh yes I believe
I believe say water turn to wine, say axehead rise for water, the rainbow, the red sea are d works of your hands, I believe, do you believe? Lift up your voice and decree I believe… Eh
Resp: I believe, oh yes I believe
You be God, you be my God, my greatest friend, my Lord and King, yes we believe in your name only
Arugbo Ojo, dansaki re
We praise you and we lift your name high ……
Na you be Jehovah Jireh, the King of glory, no one can compare to your majesty
Osimiri ataata olor'ihe lor'enyi, Jehovah Overdo
What else can we give to you Lord?
(Chorus)