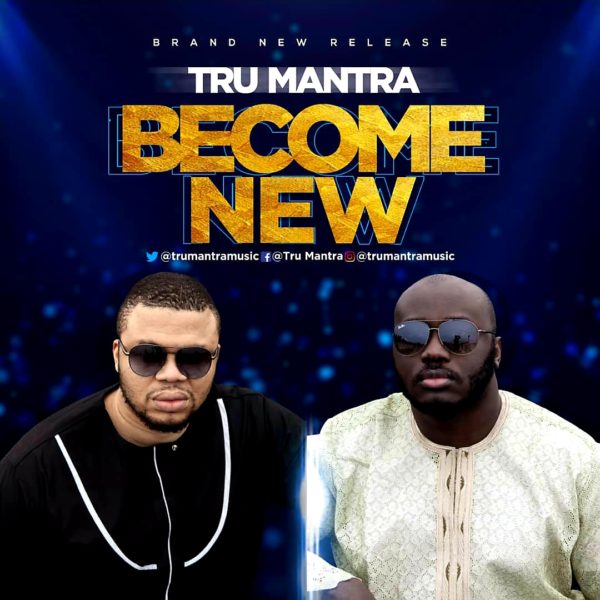 Tru Mantra's "Become New" incorporates afrobeat with the duo's unique rap style.
The crux of the song is the message that walking with God changes man, and the chorus is a celebration of this change.
Piano riffs, thumping beats and intricately woven vocals all combine to produce another great track that was as pleasing to deliver as it will be when you sit back and listen.
Stream & Download Audio Below; 
About Tru Mantra
Lanre Abiose and Tony Okwechime make up the music duo known as Tru Mantra. The group's unique blend of Afro hip hop delivered amid myriad nuances communicates clearly their Christian worldview and draws richly from the influence of their formative years spent growing up in Lagos, Nigeria.
The group's mission statement – Light music in a dark world – is driven by a desire to evoke thought while delivering music that cuts across demographics and genres. Whether delivering rap punchlines, weaving lyrically between the swaying melodies of an Afrobeat bass line or singing the hook on a hip hop track, Tru Mantra will inspire while being fun… the kind that you don't have to leave your mind and soul behind to indulge in.
Lyrics: Become New By Tru Mantra
Intro:
Baba God oh, Baba God eh (2x)
Baba God, You don turn my life around, around (3x)
Baba God, You don turn my life around, around, around
Verse 1:
Awon t'won mo mi tele, won mo pe mo ti yi pada
Tori mo ni baba, moti di atunbi, Oluwa ti tun mi bi
And I don't do those things no more, I don't do those things no more
The new me, the new me, has come to stay, has come to stay, has come to stay oh
The old me, has passed away, has passed away oh
He turns a sinner into a saint
With God you will never faint
Baba, Father God oh
Dey no know me again oh
Baba Oh
Christ in me the hope of glory
Everything I do becomes HIS-STORY
In Him, I move and have my being
He took me, he cleansed and made me pure
He blessed, the next thing, I start to soar
I'm mounting and soaring like an eagle,
I'm soaring like an eagle, yeah, yeah, yeah
Verse 2:
I used to be one of the fellas
Fine boy on the outside, inside I was callous
Smooth talker, heart rough as callus
I dey quick vex, thin epidermis
Fair weather friend, you see to Paul I was Dermas
My life was sordid, living in a circus
I was a hedonist, you could call me reckless
No direction, I guess you could call me feckless, never relentless
Think of the guy who always wants to have the last word
I'm right, you're wrong, chairman of the board
It's all about me, I deserve every award
So vengeful, slicing deeper than a sword
But then one day when I didn't even know it
I was in need, I was stunted, couldn't grow it
Jesus took over my show, yes he stole it
Now we're on the same boat, I let him row it
When I look back to all the blessings and the lessons,
Matter of fact, the Lord has truly brought me so far
I'm riding with him, but God is the chauffeur
We're always winning, don't believe the pollsters
Blessings way more than dollar bills
Blessings taller than the highest hills
Through God, I don't have wings, but I fly
I know Grace and Mercy, homie so they follow me
Chorus:
Baba oh, You turn my life around
You turn my life around
You don turn my life around, around Baby God oh
You turn my life around
You don turn my life around, You don turn my life around, around Baba oh.