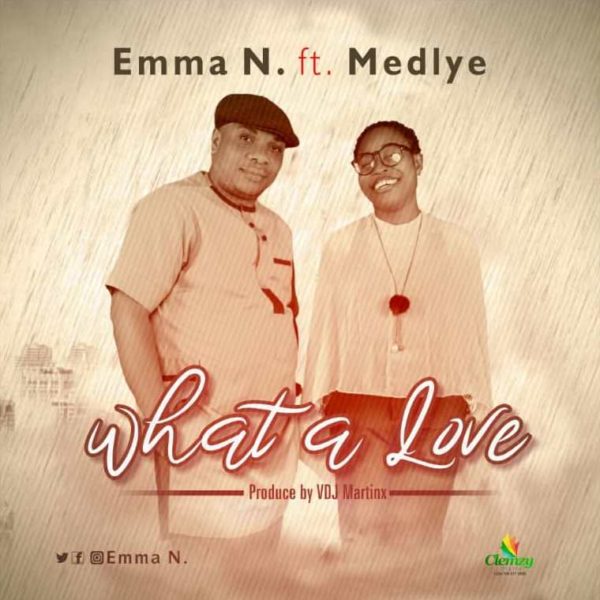 Indigenous Nigerian Gospel artiste, Emmanuel Naiboken popularly known as Emma N releases a new single titled "What A Love ", featuring Gospel music sensation Tokoni Medlye.
Emma N who hails from Bayelsa state, is an Accountant by profession and a multiple award winning Gospel artiste whose mission is to evangelize through music, bring God's love to the hopeless and grace to the distress.
"What A Love" talks about the unfailing love of God. How God can bring someone from nothing to everything overnight. "The song is a personal testimony that expresses gratitude to God for unlimited favour and divine health. And how God crowns every little effort with glory and speed", Emmanuel said.
What a love that the father has towards us who are called by His name. His goodness knows no bounds. (Even if we start to count, ear no go fit carry ham at all).
Stay Safe!! Stream & Download Audio Below; 
Lyrics: What A Love By Emma N Ft. Tokoni Medlye
Intro:
Ahya Yaya Ahya Yee (4x)
Emma N:
Oh Thank You (4x) Jesus
In All I Say Thank You
Lord I Want To Say Thank You
Oh Thank You Lord
Papa God We Hail
Emma N And Nigos Crew In The House.
Verse 1:
This Your Love
I Never See This Kind Before
This Your Love
E Dey Make Me Wonder Eh (2x)
Chant:
Ahya Yaya Ahya Yee (4x) (2x)
Verse 2:
What A Love – (2x)
What A Beautiful Loving God
What An Awesome God
His Love Will Never End (2x)
My Provider, My Sustainer, My Constructor His Love Will Never End (2x)
Chant:
Ahya Yaya Ahya Yee (4x)
Verse 3:
This Your Love Oh
I Never See This Kind Before
This Your Love
E Dey Make Me Wonder Eh
This Your Love Oh Uh
I Never See This Kind Before
This Your Love oo
E Dey Make Me Wonder Eh
Chant:
Ahya Yaya Ahya Yee (4x)
Verse 4:
Come Nearer
Tory Dey For Here
Come Nearer ahh, This Mata Nor Get End
Saviour Ah!! The Money Nor Dey Finish
Salvation.. Your Supply Nor Get End
If I Count -(3x)..
All Of The Blessings
If I Count -(3x)..
Ear Nor Fit Carry Am ooo
Chant:
Ahya Yaya Ahya Yee (4x)
Outro:
Medlye: If I Count.. This Your
This Your Love Ehh
This Your Love….
Eh eh eh
Emma N In The Building…
Medlye Ah Ahn