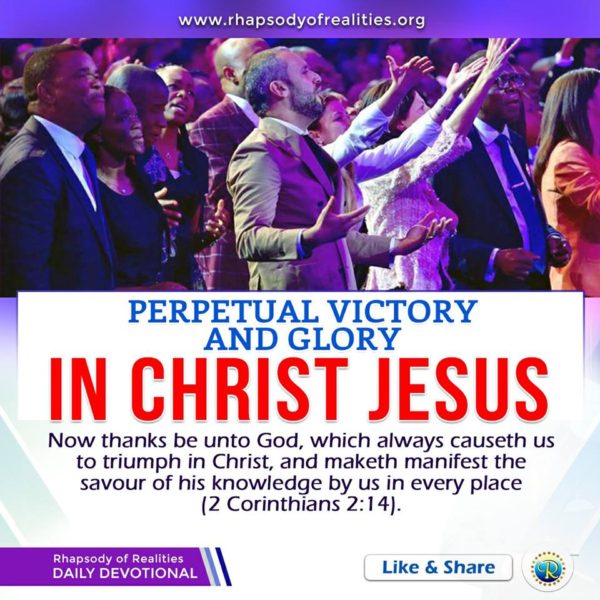 Topic: Perpetual Victory And Glory In Christ Jesus [Wednesday, January 3rd]
Now thanks be unto God, which always causeth us to triumph in Christ, and maketh manifest the savour of his knowledge by us in every place (2 Corinthians 2:14).
For those who understand the Gospel of Jesus Christ, and the reason Christ came, life isn't full of "ups and downs," but one of perpetual victory and glory in Christ Jesus. As a child of God, you're called to live each day of your life in glory, in victory over every situation. The victorious life is your birthright, for God has raised you up, and made you to sit together with Christ in heavenly places (Ephesians 2:6).
You're seated with Christ "Far above all principality, and power, and might, and dominion, and every name that is named, not only in this world, but also in that which is to come" (Ephesians 1:21). You're seated far above the devil and the cohorts of darkness, and the negative influences of this world. You've already overcome them! Have the mentality that you can't be defeated or disadvantaged.
Nothing in this world could successfully stand against you, for "…greater is he that is in you, than he that is in the world" (1 John 4:4). You've been delivered, transferred, from the powers of darkness, and translated into the Kingdom of God's dear Son, who leads us in the triumphal excursions of life; a perpetual victory parade!
Take your stand in faith against sickness, disease, poverty, death, Satan, and his manipulations. Maintain your victory in Christ Jesus. Life in Christ is a super-life; it's a daily expression of victorious and triumphant living! The Bible says, "Christ in you, the hope of glory"; that means glory has come now that Christ is in you. That you have Christ in you means success has come; prosperity has come; strength has come. Hallelujah! What a life He's given us; a life of victory, glory and dominion, through the Word and the Holy Spirit.
CONFESSION
I go forth today, in victory and dominion over Satan, and his cohorts of darkness, and the circumstances of life. I experience the power and supernatural grace of God today, as I make manifest the savour of the knowledge of Christ, in every place, in Jesus' Name. Amen.
FURTHER STUDY: 1 Corinthians 15:55-57 1 John 4:4 , Romans 8:35-37