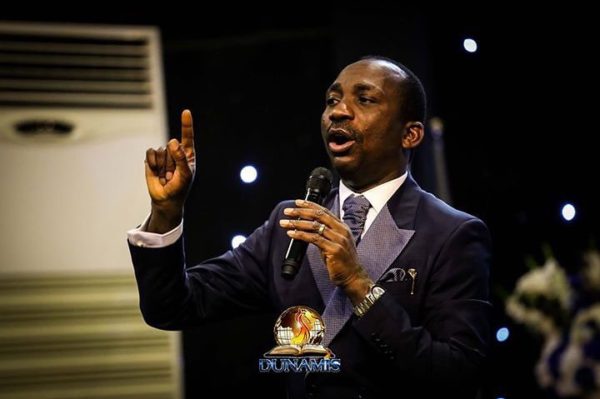 Topic: Prophetic Cover And The Mountains Of Life [Wednesday January 31st, 2018]
Scripture: Who art thou, O great mountain? before Zerubbabel thou shalt become a plain: and he shall bring forth the headstone thereof with shoutings, crying, Grace, grace unto it. Zechariah 4:7
Thought For The Day: The unction of your spiritual cover determines the mountain you can level.
Some time ago, a woman gave a testimony in our church: a child in her neighbourhood was electrocuted and she went to the accident scene and declared, 'Our Pastor, Dr Paul Enenche said that 'There Shall Be No Loss''. Immediately she made the declaration, the electrocuted child regained consciousness and came back to life.

You see, the woman was bold to take a step towards the raising of the child because there was an unction backing her. She was operating under a prophetic cover.
A young lady in our Church who had only the Senior School Certificate went for an interview some time ago. Now, apart from her Senior School Certificate, she presented her Foundation Class Certificate (Certificate for new converts and first timers training in our church), Discipleship and Leadership Training Certificate (another certificate of training in our church) and the Dunamis School of Ministry Certificate, to the interview panel when she was asked to present her credentials.
The panelist asked her, 'Do you mean you have all these certificates and qualifications? We have given you the job. Now, sit with us and interview others'. This lady went to the interview panel with all audacity and boldness because she has a prophetic cover backing her.
Recently, my wife showed me a message that a woman from Europe who attended one of our conferences together with her husband sent to her. This woman's husband was losing his breath and was almost lifeless but she declared that her husband could not die like that. So, she placed one of our Church stickers titled, "There Shall Be No Loss" on him and declared that her senior pastor said that there shall be no loss. Instantly, the man jerked back to life.
Beloved, the Anointing is not a respecter of distance. The woman received Divine intervention because she was connected to her spiritual cover.
What backs you determines what you can face; the unction of your spiritual cover determines the mountain you can level.
Remember This: The unction of your spiritual cover determines the mountain you can level.
Assignments:
Value your spiritual cover.

Carry out every instruction of your spiritual cover.
Prayer: O Lord, I ask for the grace to level every mountain in my life as I connect to my prophetic cover in Jesus' Name.

FOR FURTHER UNDERSTANDING, GET THIS MESSAGE: WISDOM FROM THE LIFE OF JOSEPH (PART 2).
Amazing Fact: Tears and mucus contain an enzyme (lysozyme) that breaks down the cell wall of many bacteria.
Today In History: 31/01/1950 – U.S. President Truman announced that he had ordered development of the hydrogen bomb.
Daily Reading: Exodus 12:14 to 13:16, Matthew 20:29 to 21:22, Psalm 25:16 to 22, Proverbs 6:12 to 15.

Quote: The unction behind you determines the action you can take- culled from EIGHTEEN WISDOM KEYS FROM THE LIFE OF JOSEPH by Dr Paul Enenche.

Today's devotional was written by Pastor Paul Enenche of the Dunamis International Gospel Centre (DIGC), headquartered at Abuja, Nigeria, with Pastor Paul and Becky Enenche, as the Senior Pastors. It is a power-packed arena where God's Presence, Principles and Power are at work for the salvation, healing and restoration of human destinies and dignities.