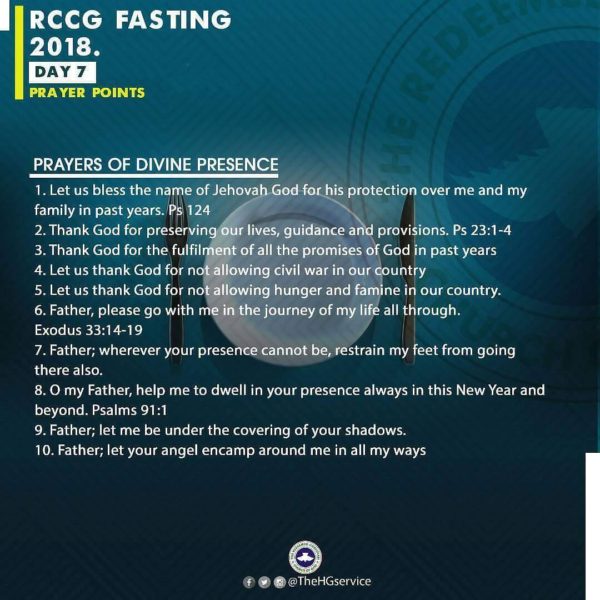 RCCG 2018 Fast: Day 7 Prayer Points | RCCG 80 Days Fasting & Prayer
Day 7: Wednesday 17th Jan 2018 – Let Your Presence Abide With Me And Help Me To Fulfill Purpose.
Let us bless the name of Lord, for His Shekhinah Glory over the City of David

Thank God for His promise, never to leave us now forsake us. Hebrews 13: 5, Deuteronomy 31: 6

Father, please go with me in the journey of my life all through. Exodus 33:14-19

Father; wherever your presence cannot be, restrain my feet from going there also.

My Father, help me to dwell in your presence always in this New Year and beyond. Psalms 91:1
DECLARATION:
I declare in the name of Jesus, in 2018 and beyond, I will dwell in the secret Place of the most High and abide under the shadow of the Almighty, I confess the Lord is my refuge, and my fortress, I declare the Lord will deliver me from the Snare of the Fowler and from the noisome pestilence that could truncate my purpose.