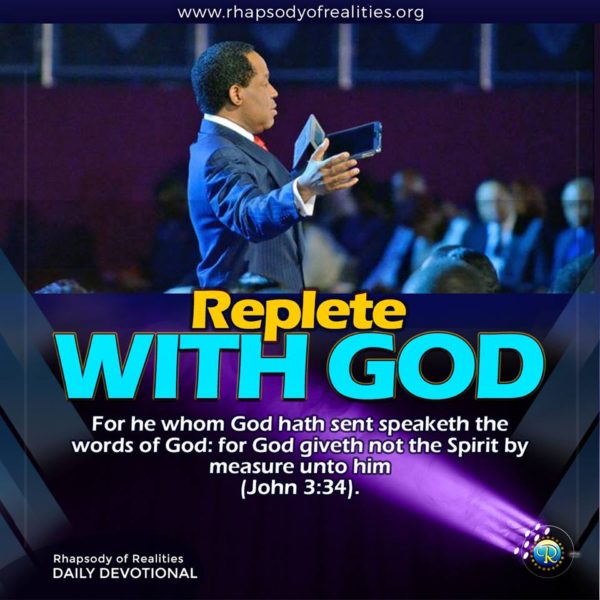 Topic: Replete With God [26th October]

For he whom God hath sent speaketh the words of God: for God giveth not the Spirit by measure unto him (John 3:34).
Colossians 2:9 tells us that in Jesus "…dwelleth all the fulness of the Godhead bodily." When Jesus walked the earth, He was filled with God, letting us know we
too can be filled with God. He was the Word made flesh. He's called the Son of God, because He was God in flesh. The Jews knew the meaning of "Son of God," which was why when Jesus said, "I'm the Son of God," they couldn't take it.
Jesus was replete with God. That's what it means to be full of God. Now, if this is true about Jesus (and it is true), how about us who are joint-heirs with Him? If Jesus was replete with God and anointed without measure, being sent of God, it follows that we also have been anointed without measure, because Jesus said, "…as my Father hath sent me, even so send I you" (John 20:21).
No wonder Colossians 2:10 says, "And ye are complete in him, which is the head of all principality and power." The word "complete" is fullness, to be made full! We're replete with God, full of God, the same way Jesus was full of God. The Amplified Classic version makes it even clearer: "And you are in him made full and having come to fullness of life in Christ you too are filled with the Godhead-Father, Son and Holy Spirit…."
That means the Godhead now dwells in us bodily as He dwelt in Jesus. That's the reason He said, "Verily, verily, I say unto you, He that believeth on me, the works that I do shall he do also; and greater works than these shall he do; because I go unto my Father" (John 14:12).
We can do greater works because we're anointed without measure; the fullness of God dwells in us. Blessed be God!
CONFESSION
The Spirit of the Lord lives in me and He's anointed me without measure! I'm replete with God! I could never be defeated or disadvantaged. I'm anointed to walk in, and produce works of, righteousness; to proclaim liberty to the oppressed and recovery of sight to the blind; to heal the brokenhearted and liberate the down-trodden and oppressed, and turn the hearts of the wicked and disobedient to the wisdom of the just! Hallelujah!
FURTHER STUDY: 1 John 4:4 John 1:16
1 YEAR BIBLE READING PLAN: 2 Timothy 2:1-26 Jeremiah 19-22
2 YEAR BIBLE READING PLAN: John 7:45-53 2 Kings 15-16