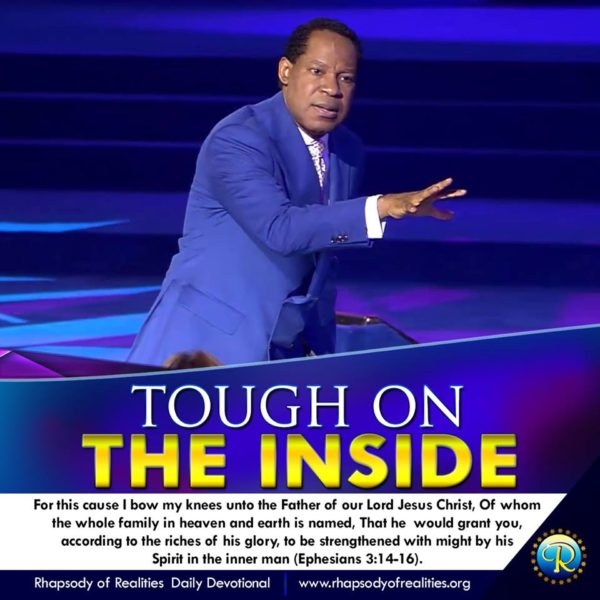 Topic: Tough On The Inside [17th August 2017]
For this cause I bow my knees unto the Father of our Lord Jesus Christ, Of whom the whole family in heaven and earth is named, That he would grant you, according to the riches of his glory, to be strengthened with might by his Spirit in the inner man (Ephesians 3:14-16).
Once, I was talking to someone who said to me, "I think I'm weak inside." The reason he thought so was because he realized that in many things in life, he lacked convictions. He didn't seem to have the will or courage to stand for anything. When he didn't like something, he couldn't resist it, because he had inner fears. But when you know the Holy Spirit, things are different; you're tough on the inside.
Our opening text is the Spirit's prayer through Paul for the Church at Ephesus. He prayed that they'd be strengthened with might by the Holy Spirit in their innermost being; He wanted them to have inner strength, because not many are strengthened from within. The same prayer is a great blessing for us today, since it's the will of God. God wants you to be strengthened with might by the Holy Spirit in your inner man.
You don't have to pray again that He should strengthen you, or complain about lack of strength; rather, respond to His Word by declaring that you're strengthened from within! If you've been unable to make serious decisions in life, because of fear and timidity, this is what you need. Stand in front of the mirror, point to the image on the other side and say, "You're tough inside! You're courageous, bold and sound! You're invigorated with miracle-working ability in your inner man."
Refuse to allow anyone describe you as weak or feeble. Your strength isn't of this world; it's from the Spirit who lives in you. Therefore, you're up to any task; you're bold and strong inside, because the greater One lives in you.
PRAYER
Dear Father, I thank you for you've strengthened me from within; therefore, every form of weakness and fear is gone from me. I'm strengthened with the strength of God, and with joy, I draw water from the wells of salvation, because the joy of the Lord is my strength. Amen.
FURTHER STUDY: Colossians 1:9-11 2 Corinthians 4:16
1 YEAR BIBLE READING PLAN: 1 Corinthians 2 ,Psalms 107-108
2 YEAR BIBLE READING PLAN: Luke 17:1-10, 1 Samuel 2