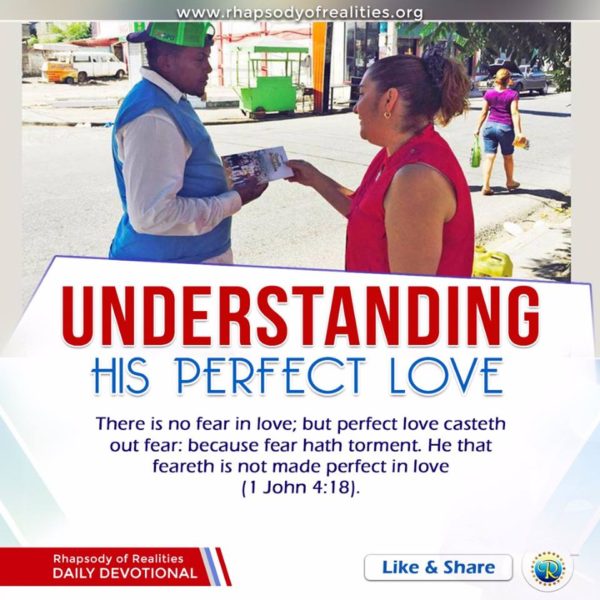 Topic: Understanding His Perfect Love [18th December]
There is no fear in love; but perfect love casteth out fear: because fear hath torment. He that feareth is not made perfect in love (1 John 4:18).
Loving the Lord, and knowing that He loves you, is perfect love, and that perfect love rids your life of fear. This means the one who lives in fear isn't perfected in love. You really don't need to try to fight fear or doubt if you'd walk in God's love. There'll be no need for an effort on your part to walk triumphantly over the darkness and adversities of life if you'd trust His love for you, and love Him in return.
Sometimes, Christians and even ministers of the Gospel may have fears; it could be fear about their health, about their finances, about their ministry, etc. If you ever find yourself in such a state, don't despair. Rather, meditate on the Father's love for you, until it takes a hold of your spirit. If you do, no matter the troubles, you'll have boldness and courage for victory in the midst of the trouble.
When someone says, "I'm afraid of this or that," that person is yet to comprehend the love of God, for perfect love drives away fear: fear of being rejected by others, fear of the future or fear of life itself. What you need to realize is that God is love and you don't have to be afraid of Him, despite all the wrong things you may have done. He says, "Let us therefore come boldly unto the throne of grace, that we may obtain mercy, and find grace to help in time of need" (Hebrews 4:16).
God's love for you is perfect love; that means He isn't going to love you more when you get to heaven than He already does. Relate to Him with this understanding, and you'll never be afraid of anything, for He has said, "…Yea, I have loved thee with an everlasting love…" (Jeremiah 31:3).
CONFESSION
Dear Father, thank you for your love in my heart; I walk in dominion today, because you've given me the spirit of power, love, and of a sound mind! I walk worthy of you unto all pleasing, rejoicing that you've caused me to triumph over fear, Satan, and the world. Hallelujah!
FURTHER STUDY:1 John 4:16 1 John 4:7-8 Romans 5:5
1 YEAR BIBLE READING PLAN: Revelation 10 Micah 1-3
2 YEAR BIBLE READING PLAN: Acts 1:1-11 2 Chronicles 32