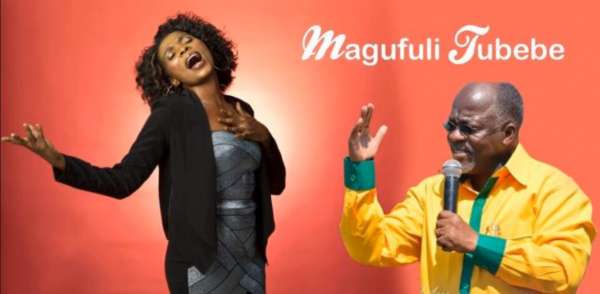 Tanzanian Swahili Gospel artist, Rose Muhando returns with a brand new song that she titles "Magufuli Tubebe." Again, she puts those celestial vocals to bare to kick-start a celebration in Heaven.
It is very little surprise Rose Muhando is called the The Queen Mother Of Gospel Music In Africa. Plus, with her musical talent and uplifting abilities, she has been able to shatter the records as one of the best selling and richest Gospel singer in Africa.
Her devotion to her faith and love for the Almighty God have ensured that her blessings have just been coming in in droves with several hit records to her name being celebrated all over the continent.
Magufuli Tubebe is a song of faith, trust and belief in The Almighty God to take absolute control. The song of supplications to The Most High comes through as powerful and deep.
Having started her career at the Dodoma's Saint Mary's Choir for the Chimuli Anglican Church, Rose Muhando has gone on to win several awards, accolades and recognition.
Magufuli Tubebe is the continuation of that streak and one that we are sure is set to become the mainstay of special numbers in Churches in the year 2018.
Download, Listen, Enjoy and Share!