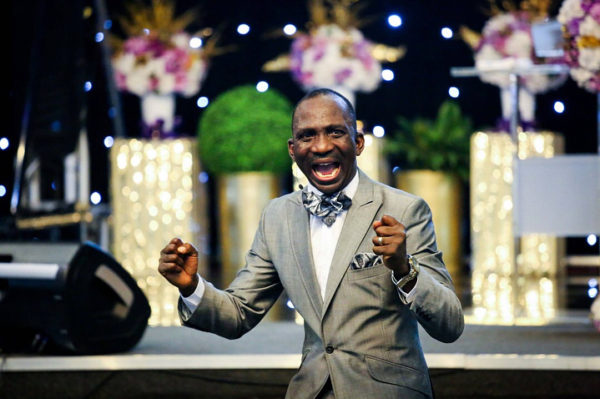 Topic: The Power Of Surrender To Divine Guidance [20th July 2018]
Scripture: I will go before thee, and make the crooked places straight: I will break in pieces the gates of brass, and cut in sunder the bars of iron: Isaiah 45:2
Thought For The Day: God is ready to speak to you if you will obey His instructions.
The Scriptures make it abundantly clear that surrendering to Divine guidance is key to open doors.
Now, what is the power of surrendering to Divine guidance?
Surrendering to Divine guidance implies total surrender to God and the absolute willingness to do what God says. There is no door that can close against a man who follows God. All what God wants from you is for you to release your hand to Him so He can hold it. If God holds your hand, all doors will function like electronic doors before you; they will open automatically for you.
Now, what does Divine Guidance entail?
1. Divine guidance entails a surrender of the will of man to the Will of God
This is allowing one's will to be married to the Will of God. It is surrendering one's will to God and the refusal to follow the many choices that one is confronted with.
Existence in the enquiry mode
This is asking God relevant questions all the time (Jeremiah 6:16); it is being attentive to hear from God. For instance, Eli instructed Samuel to say, 'Speak Lord for thy servant heareth' (1 Samuel 3:9). Enquiry is necessary because not all open doors were really opened by God.

Obedience to Divine Instructions
There is no need to ask God to show you His will if you will not obey Him. God does not waste His instructions. That is one reason God does not bother some people with instruction.
Beloved, God is ready to speak to you if you will obey His instructions. Obedient sons of God hear God's instructions always. My counsel is, make up your mind to obey God at all cost.
Remember this: God is ready to speak to you if you will obey His instructions.
Assignments:
1. Decide to surrender your will to the Will of God always.
2. Live permanently in the enquiry mood.
3. Always obey God's instructions.
Prayer: O Lord, I ask for the grace to surrender my will to You. Help me to always live in the enquiry mode and to obey Your Word, Lord, in Jesus' Name.
FOR FURTHER UNDERSTANDING, GET THIS MESSAGE: DIMENSIONS AND DEMANDS OF OPEN DOOR (PART 6).
Daily Bible Reading: 2 Chronicles 1:1 to 3:17, Romans 6:1 to 23, Psalm 16:1 to 11, Proverbs 19:20 to 21
Amazing Fact: Bees never sleep.
Today In History: 20/07/1810 – Colombia declared independence from Spain.
Quote: Do not struggle in your own strength. Always allow God to speak to you. Culled from 21 UNCOMMON KEYS TO FINANCIAL OVERFLOWS by Dr Paul Enenche
Don't Forget To Attend: The Home church meeting tomorrow by 6pm at the Centre nearest to you. Come with your friends and loved ones.
Today's devotional was written by Pastor Paul Enenche of the Dunamis International Gospel Centre (DIGC), headquartered at Abuja, Nigeria, with Pastor Paul and Becky Enenche, as the Senior Pastors. It is a power-packed arena where God's Presence, Principles and Power are at work for the salvation, healing and restoration of human destinies and dignities