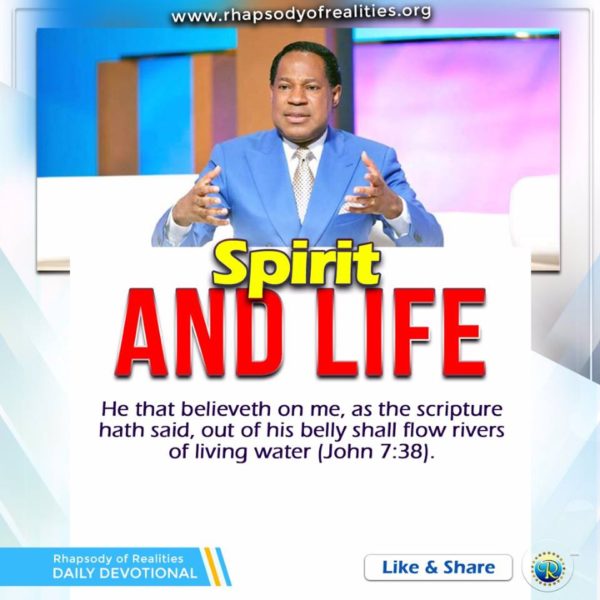 Topic: Spirit And Life [17th November 2017]

He that believeth on me, as the scripture hath said, out of his belly shall flow rivers of living water (John 7:38).
As God's children, we're all called into the ministry, and the Lord Jesus gives us a good definition of what Christian ministry is in our opening verse. Ministry is the
outflow of the rivers of living water in you. The thirty-ninth verse explicates: "But this spake he of the Spirit, which they that believe on him should receive: for the Holy Ghost was not yet given; because that Jesus was not yet glorified."
The "rivers of living water" He's talking about is the Holy Spirit. So, ministry is actually the outpouring of the life of the Spirit of God from within you! You can't give what you don't have. He says out of your belly, meaning out of your innermost being, shall flow rivers of living water. This means the Holy Spirit pours out Himself through you.
Talking to His disciples earlier in John 6:63, the Master said, "It is the spirit that quickeneth; the flesh profiteth nothing: the words that I speak unto you, they are spirit, and they are life." This is wonderful! The Master's words weren't ordinary; they were spirit and life. Make this your objective in life, to speak words that are spirit and life. Don't seek to be an orator or a good preacher; seek to release words of life. That's what makes the difference. That's how you can stand before others, and as you speak, miracles happen; blessings abound.
A young girl told a story. She was brought into the church, and as she sat listening to the teaching, not even knowing what I was saying, an evil spirit that had bound her for so many years suddenly went out of her. She could see the evil spirit looking at her and threatening her from a distance, but that devil couldn't stay. "The devil was afraid of what Pastor Chris was saying and then ran out of the church," she said.
Someone else testified that he'd been sick for so long but noticed that every time he came to church, he got better. So he decided to keep coming, until one day, he realized he was completely normal. This is so because the words we speak are spirit and they're life! And until you minister spirit and life, you're not fulfilling your role. We're life-giving spirits. Hallelujah!
PRAYER
Thank you Father for the honour to be useful to you in ministry. I yield myself fully to your Spirit and ask that you be pleased to use me continually for your glory in Jesus' Name. Amen.
1 YEAR BIBLE READING PLAN: Hebrews 13 Ezekiel 16
2 YEAR BIBLE READING PLAN: John 12:30-41, 1 Chronicles 17