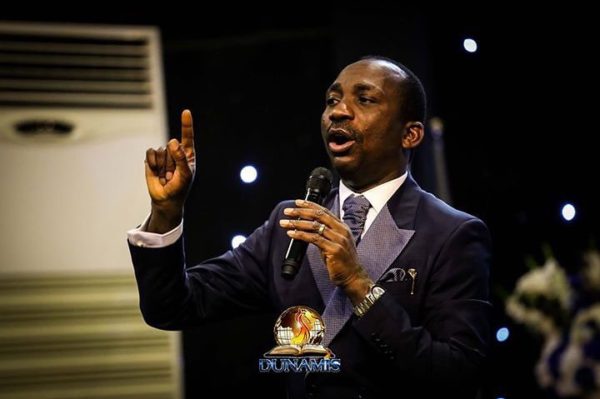 Topic: The Benefits Of Changing Lives For God [Monday April 23, 2018]
Scripture: I am the true vine, and my Father is the husbandman. Every branch in me that beareth not fruit he taketh away: and every branch that beareth fruit, he purgeth it, that it may bring forth more fruit. John 15:1-2.
Thought For The Day: Being a soul winner empowers you to arrest the wickedness and restlessness of the enemy.
The Scripture is full of the accounts of men and women God used to impact lives and advance the Kingdom. It is important to know that none of these people ended their lives in emptiness and regrets.
Therefore, in our study today, we shall look at two vital benefits of impacting and changing lives for God:
1. Fruit bearing attracts the workmanship of God in the life of the fruitful
Our anchor Scripture reveals that God purges the soul winner and fruitful Christian. This means, if a person is a soul winner and reproduces himself for God, God is committed to purging him or her of all evil or affliction.
To purge means to remove from a person what does not belong to his system. It means flushing out of a person's system all that constitutes a distraction to fruit bearing. If a person wants God to be his workman, the best thing to do is to include fruit bearing in his life's endeavour.
2. Spiritual Impact Brings Spiritual Authority
Jesus sent out his disciples to preach, and when they returned, they testified that even demons were subject to them (Luke 10:17-19). As they went out to impact lives for God, they connected the power of God.
You see, assignment brings authority; working for God empowers you to deal with the enemy. Being a soul winner empowers you to arrest the wickedness and restlessness of the enemy. The things that will easily throw you down when you are not on assignment for God would be unable to hold you down when you are out to win souls for the Kingdom. Therefore, make up your mind to win souls for God.
Remember this: Being a soul winner empowers you to arrest the wickedness and restlessness of the enemy.
Assignments:
Avoid living without impact.
Be consistent in winning souls for God.
Make demands on God for the benefits of impacting lives.
Prayer: O Lord, I ask for power to impact my world for You. I receive the courage to depopulate hell and populate heaven, Lord, in Jesus' Name.
FOR FURTHER UNDERSTANDING, GET THIS MESSAGE: MAKING THE MOST OF LIFE (PART 2).
Daily Bible Reading: Judges 1:1 to 2:9, Luke 21:29 to 22:13, Psalm 90:1 to 91:16, Proverbs 13:24 to 25
Amazing Fact: We are about 1cm taller in the mornings than in the evenings.
Today In History: 23/04/1968 – The Methodist Church and the Evangelical United Brethren Church merged to form the United Methodist Church.
Quote: Show me a man who does not care about the cause of God on the earth, and I will show you a God who also does not care about such man. Culled from 30 SECRETS TO THE TOP by Dr Paul Enenche.
Today's devotional was written by Pastor Paul Enenche of the Dunamis International Gospel Centre (DIGC), headquartered at Abuja, Nigeria, with Pastor Paul and Becky Enenche, as the Senior Pastors. It is a power-packed arena where God's Presence, Principles and Power are at work for the salvation, healing and restoration of human destinies and dignities