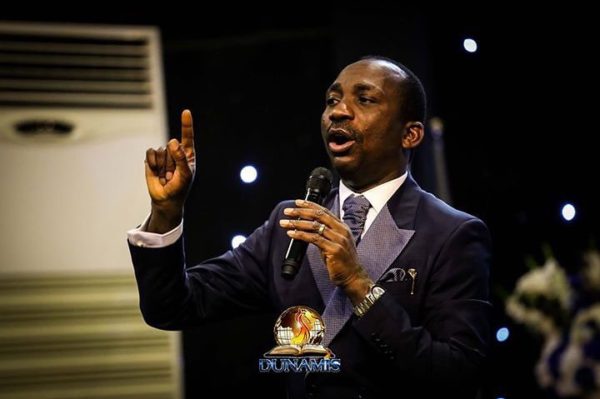 Topic: The Blessing Of Vision [Monday January 8, 2018]

Scripture: And the Lord answered me, and said, Write the vision, and make it plain upon tables, that he may run that readeth it. Habakkuk 2:2
Thought For The Day: God looks into your heart to see what your hand is qualified for.
Yesterday, we established that there is a relationship between vision and the Blessing of God. Men of old like Abraham, Isaac Jacob, Joseph, Moses and David who saw massive provisions of God in their lives were men of vision.

Today, we shall be looking at how vision produces the Blessing of God?
Now, I would like to give you two key facts:
The visions of the heart of man determine the release of provisions from the Hand of God
Anything that is in your heart is what God will put in your hand. If it is not in your heart, it cannot be in your hand. So, God looks into your heart to see what your hand is qualified for.
Vision is a magnet of provision.
A wise man once said that you cannot travel on your inside and stand still on the outside. Every inside move attracts a corresponding external move. When the snail for instance moves, its shell also follows. So, your outward life will always conform to your inward convictions. External conditions are always lined up to conform to internal visions and convictions. In the same way, vision magnetises provision.
Beloved, my counsel is: never possess an empty heart; do not allow your situation to limit your vision.

Remember This: God looks into your heart to see what your hand is qualified for.
Assignments:
Deal with every spell of empty heartedness.

Make demands on God for the divine provisions in your life.

Prayer: O LORD, I ask that You fill my heart with Your vision for Your Kingdom. Give me access to Your provisions, LORD, in Jesus' Name.

FOR FURTHER UNDERSTANDING, GET THIS MESSAGE: VISION AND THE BLESSING (PART 3).

Amazing Fact: Humans are bioluminescent and glow in the dark. The light that we emit is 1,000 times weaker than our human eyes are able to pick up.
Today In History: 08/01/1935 – The spectrophotometer was patented by A.C. Hardy.
Daily Reading: Genesis 18:16 to 19:38, Matthew 6:25 to 7:14, Psalm 8:1 to 9, Proverbs 2:6 to 15.
Don't Forget To Attend: The Healing and Deliverance Service tomorrow by 9am for the healing of your spirit, soul and body. Invite someone as you come
Today's devotional was written by Pastor Paul Enenche of the Dunamis International Gospel Centre (DIGC), headquartered at Abuja, Nigeria, with Pastor Paul and Becky Enenche, as the Senior Pastors. It is a power-packed arena where God's Presence, Principles and Power are at work for the salvation, healing and restoration of human destinies and dignities.