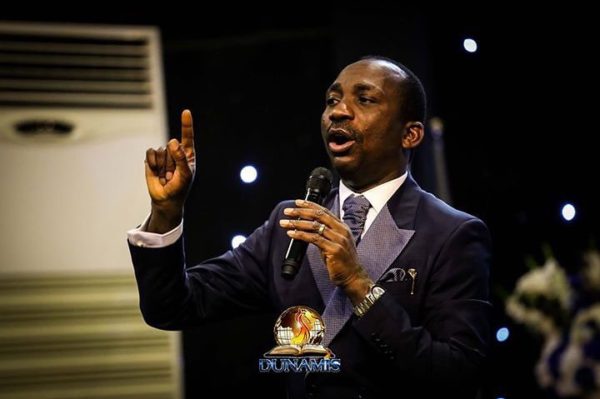 Topic: The Products Of Passion [Thursday February 8, 2018]
Scripture: Draw nigh to God, and he will draw nigh to you… James 4:8

Thought For The Day: You cannot be passionate for God and be powerless spiritually. Passionate people are powerful people
It has been confirmed that a person's passion determines his portion in life. Passion for God is profitable in time and in eternity.

In our world today, there are people who are not interested in the state of their spirit. They are not interested in a message or a book about the Holy Spirit or the Anointing; it does not mean anything to them. But if there is a new fashion, they can even borrow money to buy it because fashion is their passion.
Previously, we looked at some of the profits of passion for God, and today we shall be looking at more of them.
Passion for God determines power with God.
Passionate people are powerful people (Psalm 63:1-2). You cannot be passionate for God and be powerless spiritually. Passionate people are powerful people. Show me a man of passion and I will show you a man with power.
Passion for God determines the release of potentials.
The healing anointing and all manner of graces came forth in Jesus' life because of his passion for His Father. David was one of the most passionate people in the Scripture (Psalm 63:1-2, Psalm 42:1-2), and he carried heavy potentials – he was an instrumentalist, a song writer, a king, a prophet, a people developer, an inventor of music equipment, etc.
The truth is, the closer you get to God, the more your potentials come under pressure to be released; everything inside you is pushed out. Passion for God puts your potential under pressure for manifestation.
Beloved, any endeavour, pursuit, or relationship that interrupts your devotional life or commitment in Church is a threat to your life and destiny.
Remember This: You cannot be passionate for God and be powerless spiritually. Passionate people are powerful people.
Assignment(S):
Endeavour to be always close to God; be consistent in heartfelt communion with God, studying His Word and worshipping Him intimately.

Avoid living a life of vanity.
FOR FURTHER UNDERSTANDING, GET THIS MESSAGE: PASSION FOR GOD.
Prayer: O LORD, draw me close to You. You are All I need Lord. Help me to be passionate for You all the days of my life, in Jesus' Name.
Daily Reading: Exodus 28:1 to 43, Matthew 25:31 to 26:13, Psalm 31:9 to 18, Proverbs 8:12 to 13
Quote: Any step taken outside God is a step into disaster. Culled from 30 SECRETS TO THE TOP by Dr Paul Enenche.
Amazing Fact: A cockroach can live several weeks with its head cut off.
Today In History: 08/02/1837 – Richard Johnson became the first Vice President of the United States chosen by the United States Senate.

Today's devotional was written by Pastor Paul Enenche of the Dunamis International Gospel Centre (DIGC), headquartered at Abuja, Nigeria, with Pastor Paul and Becky Enenche, as the Senior Pastors. It is a power-packed arena where God's Presence, Principles and Power are at work for the salvation, healing and restoration of human destinies and dignities.