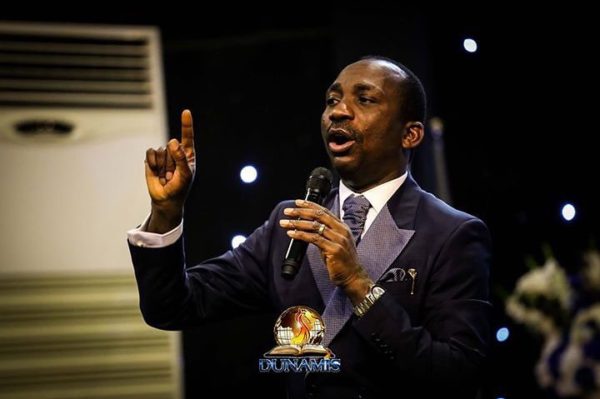 Topic: The Right Foundation For Destiny Fulfilment [Saturday February 17, 2018]
Scripture: If the foundations be destroyed, what can the righteous do? Psalm 11:3
Thought For The Day: The strength of our foundation determines the strength of our destinies.
It has being confirmed that a man's foundation determines his destiny. Therefore, the strength of our foundation determines the strength of our destinies.

Some years ago, I heard a story about a 24-storey building that had a crack on the twelfth floor of the building. Some structural engineers were invited to assess the building and after much investigation, they discovered that there was a security man who lived in the basement of the building and had a heating system which he constantly used to generate heat during winter for his comfort. The heat so affected the foundation that the crack reflected on the twelfth floor.
This implies that some people who succeeded and crashed later in life may have had foundational issues that were not dealt with.
One of these foundational issues that must be confronted is personal life traits and tendencies.
These are failure factors that have followed people from their mother's womb. It could be loquaciousness, chronic laziness, etc.
Beloved, in order to have a glorious destiny, you must depend on the Holy Spirit to identify any negative foundation that is attempting to hinder God's plan for your life and destiny, and seek God's help at the place of prayer for your freedom.
Remember This: The strength of our foundation determines the strength of our destinies.
Assignments:
Examine your life for negative traits that are contrary to your destiny and deal with them at the place of prayer.

Apply the Word of God to your life and ask the Holy Spirit to show you any hidden trait that may hinder your success in life.
Prayer: O LORD, I ask that You reveal any foundation that must be pulled down in my life for Your glory to be revealed. Give me the grace to maintain the right identity that will shift me into Your realm of glory, in Jesus' Name.
FOR FURTHER UNDERSTANDING, GET THIS MESSAGE: FOUNDATION AND DESTINY.

Daily Reading: Leviticus 4:1 to 5:19, Mark 2:13 to 3:6, Psalm 36:1 to 12, Proverbs 10:1 to 2.
Quote: Until your character is adjusted your destiny cannot be established. Culled from 30 SECRETS TO THE TOP by Dr Paul Enenche.
Amazing Fact: An ostrich's eye is bigger than its brain

Today In History: 17/02/1949 – Chaim Weizmann began his term as the first President of Israel.

Today's devotional was written by Pastor Paul Enenche of the Dunamis International Gospel Centre (DIGC), headquartered at Abuja, Nigeria, with Pastor Paul and Becky Enenche, as the Senior Pastors. It is a power-packed arena where God's Presence, Principles and Power are at work for the salvation, healing and restoration of human destinies and dignities.