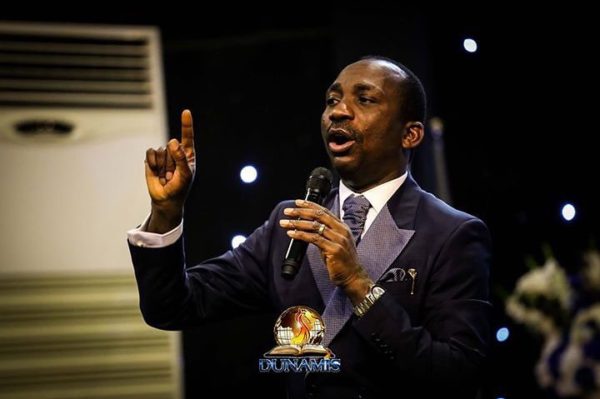 Topic: The Tragedy Of Looking Back [Thursday January 18th, 2018]
Scripture: And Jesus said unto him, No man, having put his hand to the plough, and looking back, is fit for the kingdom of God. Luke 9:62.
Thought For The Day: To turn back from following God is to end in eternity in hellfire.
The devil is the enemy of God and humanity. His mission is to destroy what God has built in your life (John 10:10), but he will never succeed in your life in Jesus' Name.

One of the missions of the devil is to make people who are dedicated to following God look back and go back from following Him. Meanwhile, to look back from following God is to be lost in life and destiny; to look back from following God is to be lost in eternity in hell.
One of the strategies of the enemy in making dedicated people to look back is organising pressures and distractions around their lives. There are people who stopped on the way while on their journey with God because of the pressures of life.
One example of such persons was Lot's wife.
When God instructed Lot and his household that they should not look back while running away from Sodom, Lot's wife was carried away by the pressure and cares of this world. She seemed to have been carried away by the material treasures she had left behind in Sodom and the pressures and chaos of the destructions behind her. When she turned back, she became a pillar of salt (Genesis 19:26).
Apart from pressure, there are people who turn back from following God because of prosperity. When their lives change and they have more money, they do not go to church anymore.
Beloved, to turn back from following God is to end in eternity in hellfire. That shall not be your portion in Jesus Name. Therefore, do not let pressure or prosperity stop you from following God.
Remember This: To turn back from following God is to end in eternity in hellfire.
Assignments:
Make up your mind never to turn back for following God.

Be focused in life on God either in pressure or prosperity.
Prayer: O Lord, I ask that You give me the grace to be doggedly focused on You. Help me never to turn back from following You despite pressure or prosperity, LORD, in Jesus' Name.
FOR FURTHER UNDERSTANDING, GET THIS MESSAGE: UNDERSTANDING DEDICATION.

Amazing Fact: Three hundred million cells die in the human body every minute and every day, an adult produces 300 billion new cells.
Today In History: 18/01/1896 – The x-ray machine was exhibited for the first time.
Daily Reading: Genesis 37:1 to 38:30, Matthew 12:22 to 45, Psalm 16:1 to 11, Proverbs 3:27 to 32.

Quote: The strength of your character determines the weight of your destiny. Culled from 30 SECRETS TO THE TOP by Dr Paul Enenche.

Today's devotional was written by Pastor Paul Enenche of the Dunamis International Gospel Centre (DIGC), headquartered at Abuja, Nigeria, with Pastor Paul and Becky Enenche, as the Senior Pastors. It is a power-packed arena where God's Presence, Principles and Power are at work for the salvation, healing and restoration of human destinies and dignities.