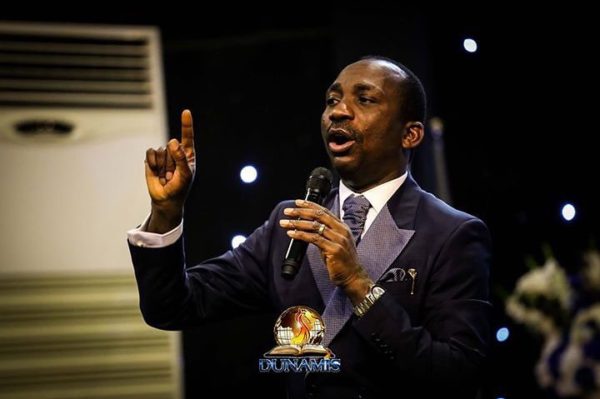 Topic: Understanding – The Mother Of Greatness [Thursday February 1st, 2018]
Scripture: When men are cast down, then thou shalt say, There is lifting up…. Job 22:29
Thought For The Day: What is not understood is never pursued.
Our anchor Scripture communicates the fact that God exempts and distinguishes His people in the midst of terrible situations of the world.

Beloved, it is critical to understand the exemption and distinction plan God has for His people. Now, why is the understanding of God's exemption plan necessary?
Understanding births pursuit. What is not understood is never pursued. Elisha pursued Elijah because he (Elisha) understood that Elijah was about to be taken up to heaven and there was something with Elijah that he needed – the mantle.

Understanding brings success. Any area where understanding is available, success is effortless. Students excel in school when they understand the subjects. On the other hand, other students fail due to lack of understanding of the subjects.

Understanding fuels faith. Faith comes by hearing and understanding the Word (Romans 10:17). The understanding of God's program of exemption and distinction for His people is needed so that our faith can come alive to pursue it.

Understanding makes for outstanding existence. Understanding makes people stand out in life; it makes people shine in what they do (Isaiah 60:1).

Understanding brings triumph; it brings victory in life and destiny (John 1:5).
Beloved, the truth is, the darker the night, the brighter the glory of light. By virtue of light from God's Word, I decree that you will not be aware of the darkness in the world; when men say they are cast down, you shall say there is a lifting up, in Jesus' Name.
Remember This: What is not understood is never pursued.
Assignment (S):
Trust God for the understanding of His Word concerning your life.

Make the Holy Spirit your intimate Companion.
FOR FURTHER UNDERSTANDING, GET THIS MESSAGE: THERE IS A LIFTING UP
Prayer: O LORD, help me to understand Your Word and purpose for my life. Open my eyes to the revelation of Your Word, Lord, in Jesus' Name.
Daily Reading: Exodus 13:17 to 15:18, Matthew 21:23 to 46, Psalm 26:1 to 12 Proverbs 6:16 to 19
Quote: God is more eager to see you free and prosperous in every area of your life than you are. He is the sure determinant of your greatness. Culled from HOW TO LEAVE THE GROUND LEVEL OF LIFE by Dr Becky Paul–Enenche
Amazing Fact: Otters sleep holding hands.
Today In History: 01/02/1893 – Thomas A. Edison finished construction of the first motion picture studio, the Black Maria in West Orange, New Jersey.

Today's devotional was written by Pastor Paul Enenche of the Dunamis International Gospel Centre (DIGC), headquartered at Abuja, Nigeria, with Pastor Paul and Becky Enenche, as the Senior Pastors. It is a power-packed arena where God's Presence, Principles and Power are at work for the salvation, healing and restoration of human destinies and dignities.