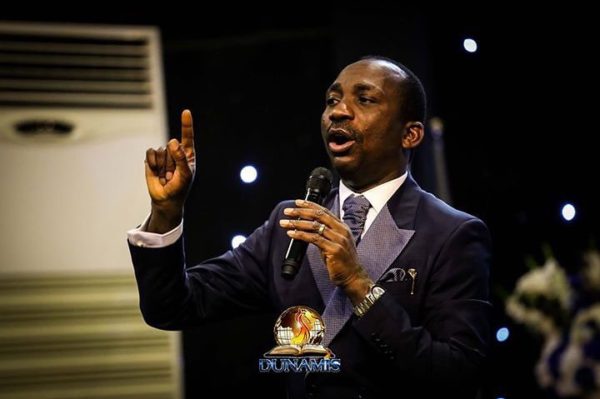 Topic: Beginning With God [Tuesday December 2, 2018]
Scripture: Behold, I will do a new thing; now it shall spring forth; shall ye not know it? I will even make a way in the wilderness, and rivers in the desert. Isaiah 43:19.
Thought For The Day: It is the Nature of God to turn things around at the beginning of every new phase of life.

Yesterday, we saw that our God is a God of new beginnings and that He usually manifests Himself at the beginning of new phases of life. We also noted that He showed forth His Power and caused new beginnings at creation, Samson's life and at the Valley of Dry Bones.
In our study today, we will make further explorations on Biblical examples of where and how God showed forth His Power at the beginning of new phases of life. Understanding this will make us begin our lives anew each day with God.
Now, what are further examples of the manifestation of God's power at the beginning of new phase of life?
Peter at the Lake of Gennesaret: In the Book of Luke 5:1-6, Jesus manifested Himself to Simon Peter and others as the God of new beginnings. Simon Peter and his colleagues had given up after an all-night toiling without a single catch of fish. As they were washing their nets to go home in failure and frustration, Jesus told Peter, 'Launch out into the deep…' (Luke 5:4) and when he did that, they caught a great multitude of fishes, and their nets brake.

At the wedding in Cana of Galilee: The God of new beginnings was also at work at the wedding in Cana of Galilee. The organisers of the wedding were faced with an embarrassing situation of exhausted wine, then Jesus' mother, who was also a guest at the wedding, drew Jesus' attention to the unavailability of wine. Jesus turned water into wine and they had a new wine for the wedding. It is the Nature of God to turn things around at the beginning of every new phase of life.

The Life of Job: God caused a new beginning in the life of Job. The devil wrecked his life and made him lose everything he had – wealth, health, children, etc. However, when the God of new beginning showed up in his life, there was a fresh beginning and restoration of everything he lost in multiple folds.
Beloved, people might have concluded that you have failed in life but I want to let you know that there is a God who is about to give you a fresh start. No matter the conspiracy of hell against your life, I prophesy the reopening of every closed chapter of your life today in Jesus' Name.
Remember This: It is the Nature of God to turn things around at the beginning of every new phase of life.
Assignments:
Go through yesterday and today's messages meditatively once again.

Make demands on the God of new beginnings to manifest Himself in your life.
Prayer: O Lord, I ask for new things in my life. Open a new chapter in my life and destiny, Lord, in Jesus' Name.
FOR FURTHER UNDERSTANDING, GET THIS MESSAGE: THE GOD OF NEW BEGINNING.
Quote: Prayer connects man with God's presence. Culled from PRINCIPLES AND POWER OF PRAYER by Dr Paul Enenche.
Amazing Fact: The longest English word without a vowel is twyndyllyngs which means "twins".

Today In History: 02/01/1965 – "Broadway" Joe Namath signed the richest rookie contract ($400,000) in the history of pro football.
Daily Reading: Genesis 3:1 to 4:26, Matthew 2:13 to 3:6, Psalm 2:1 to 12, Proverbs 1:7 to 9.
Don't Forget To Attend: The combined Power Communion Praise Service tomorrow by 5:00pm. God bless you as you come with your friends and loved ones.

Today's devotional was written by Pastor Paul Enenche of the Dunamis International Gospel Centre (DIGC), headquartered at Abuja, Nigeria, with Pastor Paul and Becky Enenche, as the Senior Pastors. It is a power-packed arena where God's Presence, Principles and Power are at work for the salvation, healing and restoration of human destinies and dignities.