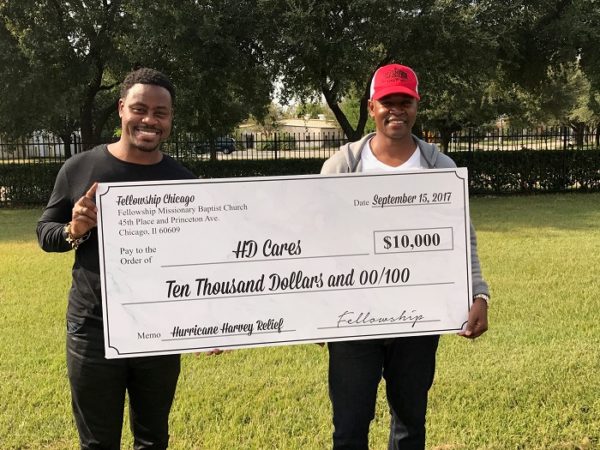 Singer, songwriter and producer Charles Jenkins is always looking for ways to help people. This past weekend Jenkins and his Fellowship Chicago congregation donated $10,000 to Higher Dimension Church's HD Cares Hurricane Harvey Initiative that benefits the Houston hurricane recovery.
"I hope everyone is inspired to do something, whether it's great or small it all counts" says Jenkins. "Our brothers and sisters are in need, so this is the time for the church to step up and be visible as the survivors rebuild not only their homes but also their lives. Pastor Terrance Johnson and HD Cares is doing a tremendous work in Houston and we just wanted to be a part of their good work." Pastor Johnson responded saying, "It's all about rebuilding now and we are grateful for the support of people like Pastor Jenkins and others who will step up because the need is so great. It's going to take years to recover so we need the ongoing help for the families in need."
Additionally, Charles & Fellowship Chicago also donated their time joining other great artists to perform in Houston for New Light Christian Center's Hurricane Harvey Relief Concert to raise money to help those displaced by the devastating storm. "The Hilliard's and The Light are helping people and meeting needs everyday so it was a blessing to support their effort to raise funds" says Jenkins.
In the meantime, Jenkins' latest recording with Fellowship Chicago ft. Le'Andria, "Grace" (Inspired People/Empire), is resonating around the world and serves as an inspiring message to all who are touched by the devastation of a particularly busy hurricane season. "By faith, my future is bright," the ensemble sings. "He's brought me from a mighty long way. I walk by faith and not by sight oh yeah, that's how I made it where I am today." The soulful song sits at No. 6 on this week's Billboard Gospel Airplay chart and No. 4 on the Mediabase Gospel Airplay chart.