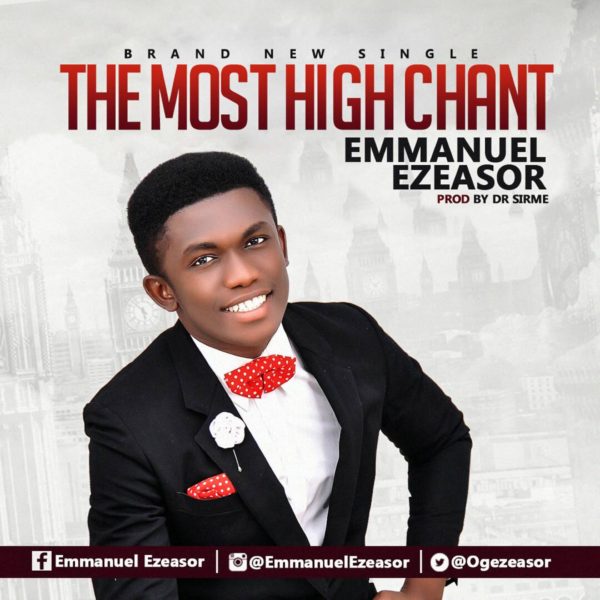 Fast rising gospel artiste Emmanuel Ezeasor drops a new single for the year titled "The Most High Chant".
In his words: "The Most High Chant was inspired in my place of worship, while i began to sing conventional but powerful worship songs I suddenly started hearing this lines on very different and high pitches as unto the voices of thousands… the more it kept coming, I joined in the chorus and reached out to my phone to record it. I knew this were the voices of Angels in worship. The Most High Chant is not a figment of any mans wisdom or plans it was inspired by heaven."
Download, Listen, Enjoy and Share!
About Emmanuel Ezeasor
Ezeasor Emmanuel Ogechukwu was born in Kano to the family of Mr. and Mrs. Emmanuel Chukwudinka Ezeasor in June, 1995. He had his Primary and Secondary Education at Faith International College, Kano. During his secondary school days, he was appointed the Chapel prefect. This was as a result of his life styles and comportment. He was fondly called 'pastor' at this time. From this truth, we can say that his ministerial calling began from there. Not just that he was tagged 'pastor' for fun, rather, just like Jesus Christ did- going about, healing and delivering people who were oppressed, Emmanuel had sets of disciples who gathered together with him, praying, interceding and healing and doing all manner of miracles. Remember, this era was in his teenage age. He exhibited a part of his leadership enigma, discipleship by training these ones to succeed him after his graduation. He was always known for training people.
Emmanuel's flare for prayers and being trained made him submitted to his Mother in the Lord, Late Mrs. Ngozi Soba who was the leader of their then prayer team.
In June 2012, he obtained admission to Study Microbiology at Chukwuemeka Odumegwu Ojukwu University (COOU), Uli. There he still burn in flames for God. He attended Grace Campus Fellowship where his service was obvious and greatly applauded. The then leadership had no option than to appoint him the head pastor of the fellowship. This happened in April 2014 in his 200 level.
Pastor Emmanuel's ministerial journey is what to write home about. From the day he assumed leadership office as the head pastor till his handover in October, 2017, several achievements have been recorded. Some of these included: Voice in the Beat Expression (VIBE) Praiz (an annual Music Concert where gospel Artistes are hosted for Praise), 12 seater hummer bus geared towards missionary tour; and healing/breakthrough of all manner of sicknesses and infirmities.
Pastor Emma's driving force is to see that Love of Jesus Christ is preached and heard onshore and ashore (that is, the uttermost parts of the earth). As a result of this and also being called a Missionary, he pioneer and head missionary group, Love Life City where the vision is to see people feel the enormous love of Jesus.
Writing on Pastor Emma's benefits to God and mankind is like going into a journey of authoring a large voluminous book because they can't be documented so easily.
Nevertheless, it's my privilege and pleasure to tell you just little of all I have learnt from him being under his leadership and being a leader in this family:
Like I have always quoted:
"It has not been written or published anywhere that the kid accepts the breastfeeding of the mother goat standing neither has it been published anywhere that leaders 'carelessly' emerges from anywhere, wherever…
They are picked, trained, nurtured, monitored and mentored till they can be able to stand their grounds as independent Leaders".
My Pastor, leader, teacher, trainer and adviser, Ezeasor Emmanuel, takes this truth personally. I know him as a Leadership and Discipleship strategist. He believes Sons be raised to occupy posts in the society.
I know my pastor to facilitate and anchor every leadership tour along with us, his followers. Some of these journeys would be full of thick and thin but he would stand firm with love, care, leadership spirit and that of ownership.
I do know him also to be the type of leader that carries his subjects along. To me, this is number one leadership characteristic I so much like, teach and imbibe.
Pastor Ezeasor Emmanuel Ogechukwu has helped folks discover why they live. I personally call him DESTINY BENEFACTOR…
He has been a blessing to Amesi indigens of Aguata L.G.A Anambra State.