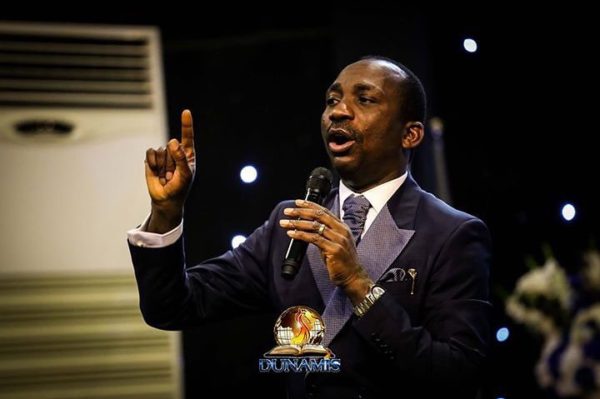 Topic: From Obscurity To Celebrity By The Anointing [Seeds of Destiny Monday February 26, 2018]
Scripture: Then Samuel took the horn of oil, and anointed him in the midst of his brethren: and the Spirit of the Lord came upon David from that day forward. 1 Samuel 16:13
Thought For The Day: It is the Anointing that brings people out of obscurity.
Yesterday, it was established that every major manifestation in life is a product of definite unction (Anointing).
Moses was anointed at the flames of the burning bush where the ordinary shepherd rod in his hand became the rod of power. When he was anointed, his destiny and ministry that was closed and limited to shepherding in the wilderness for forty years opened up.
David was a forgotten boy at the back side of the desert. He was so forgotten that when Prophet Samuel asked his father, Jesse to arrange all his sons for a king to be chosen and anointed from his family, he prepared everyone for the occasion but forgot David. When it was clear that none of those presented was the candidate for the anointing, Prophet Samuel said unto Jesse, Are here all thy children? And he said, There remaineth yet the youngest, and, behold, he keepeth the sheep. And Samuel said unto Jesse, Send and fetch him… (1 Samuel 16:11).
The Anointing brought David out and made him a king; if not for the Anointing, he would have been lost forever in obscurity.
It is the Anointing that brings people out of obscurity. It brings them out of where personal limitations kept them, out of where conspiracies, satanic orchestrations and manipulations of the occult kept them.
I declare to you that the Anointing is bringing you out of obscurity into your destiny, in Jesus' Name.
Remember this: It is the Anointing that brings people out of obscurity.
Assignment (S)
Increase your desperation for the Anointing of God because passion brings unction.

Be given to service because the Anointing comes on servants (Psalms 89:20).
FOR FURTHER UNDERSTANDING, GET THIS MESSAGE: UNCTION FOR MANIFESTATION.
Prayer: LORD, I surrender all to You. Anoint me afresh for Your glory and bring me out of every form of obscurity, LORD, in Jesus' Name.
Daily Reading: Leviticus 19:1 to 20:21, Mark 8:11 to 38, Psalm 42:1 to11, Proverbs 10:17
Quote: There is no fire in the mouth of many because there is no Word. Culled from MAKING FULL PROOF OF MINISTRY by Dr Paul Enenche.
Amazing Fact: Sloths would mistakenly grab their arms instead of the branches of a tree, which can lead to fatal falls.
Today In History: 26/02/1966 – Apollo program: Launch of AS-201, the first flight of the Saturn IB rocket.
Today's devotional was written by Pastor Paul Enenche of the Dunamis International Gospel Centre (DIGC), headquartered at Abuja, Nigeria, with Pastor Paul and Becky Enenche, as the Senior Pastors. It is a power-packed arena where God's Presence, Principles and Power are at work for the salvation, healing and restoration of human destinies and dignities