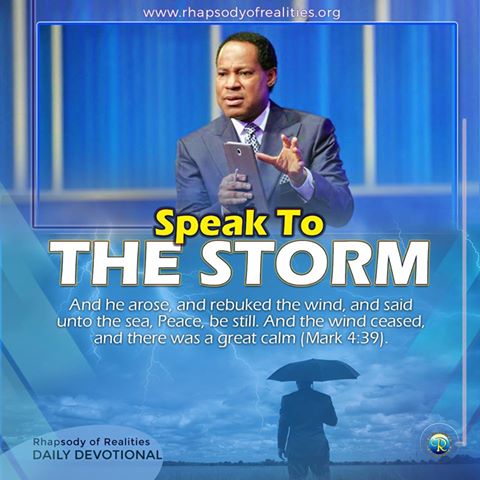 Topic: Speak To The Storm [Sunday, September 24th]

And he arose, and rebuked the wind, and said unto the sea, Peace, be still. And the wind ceased, and there was a great calm (Mark 4:39).
God doesn't want you to go through life as though you're helpless and handicapped. Rather, He wants you to take charge and do something with your life, and about your situation. You should make things happen in your life.
You might be crying, "Lord, don't you see my situation? Do something!" No, you're the one to do something, because He's given you the power. Act like Jesus. He calmed the storms with words. He said to the raging tempest, "Peace, be still" and there was a great calm.
Perhaps for some reason, you find yourself agitated and fearful about a situation, what you should do is simple: Put your right hand on your chest and say, "Calm down in the Name of Jesus," and His peace will overwhelm your soul.
The disciples were sore afraid when the winds became boisterous, and the water was getting into the boat. They came to Jesus and said, "Master, don't you care that we perish?" Jesus said to them, "Where is your faith?" In other words, "Why are you terrified? I'm right here. I'm your peace." They had "Peace" with them in the boat, for He's the peace of Israel, and He's our peace today.
Refuse to fear. Christ is your peace, and He lives in you. He's God's Word. He's the "Logos" of God. When you speak, Jesus—the Word—is manifested. So when you need to calm any storm, you don't have to try to "wake Him up," like the disciples did; you speak His Word.
No wonder the Bible says, "Let the Word of Christ dwell in you richly…' (Colossians 3:16). Jesus said, "If ye abide in me, and my words abide in you, ye shall ask what ye will…" (John 15:7). What do you want? Don't complain; don't beg; speak the Word. Ask and receive. Hallelujah!
PRAYER
Precious Father, I thank you for the blessing and authority I have in Jesus. Christ is my peace; even now, I declare peace over my life, my job, my business, my family, and on everything that concerns me. I'm overwhelmed by the glory and tranquility of the Spirit. My path is one of success, joy, and victory forever, in Jesus' Name. Amen.
FURTHER STUDY:
||Mark 9:23 Jesus said unto him, If thou canst believe, all things [are] possible to him that believeth.
|| Job 22:28* Thou shalt also decree a thing, and it shall be established unto thee: and the light shall shine upon thy ways. ||
| Ecclesiastes 8:4 Where the word of a king [is, there is] power: and who may say unto him, What doest thou? |
DAILY SCRIPTURE READING
1-Year Bible Reading Plan:* Ephesians 1:15-2:1-10,
Isaiah 13-14
2-Year Bible Reading Plan:* Luke 24:40-53,
2 Samuel 21-22