Star-studded collection of top artists and songs include Kirk Franklin, Marvin Sapp, Fred Hammond, Travis Greene, Kurt Carr, Melvin Crispell, III, Koryn Hawthorne, Donald Lawrence, Donnie McClurkin, and Kierra Sheard.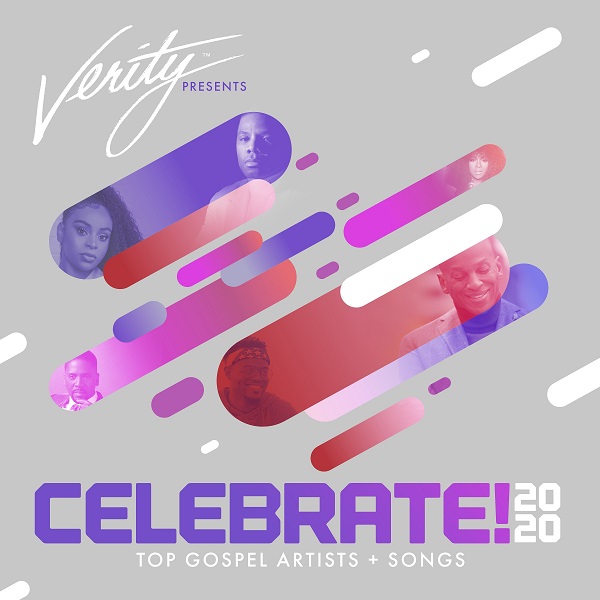 Verity Records has released a hit collection of top songs featuring the biggest artists and rising stars on Verity Presents Celebrate! 2020.
The 10-track compilation mixes contemporary anthems, ballads and more from Gospel icons and hit makers with songs from Kirk Franklin, Marvin Sapp, Donnie McClurkin, Fred Hammond, Kurt Carr, Koryn Hawthorne feat. Lecrae, Donald Lawrence & The Tri-City Singers feat. Le'Andria Johnson, Travis Greene, Kierra Sheard, and "Sunday Best" winner Melvin Crispell, III. From fan favorites and monster radio hits, grab the exclusive collection available now at Amazon, Walmart, and other retailers!
Verity Presents Celebrate! 2020 Track List:
"Love Theory" – Kirk Franklin
"Won't Let Go" – Travis Greene
"Unstoppable" – Koryn Hawthorne feat. Lecrae
"Deliver Me (This Is My Exodus)" – Donald Lawrence & The Tri-City Singers feat. Le'Andria Johnson
"Kind God" – Marvin Sapp
"I'm Grateful" – Fred Hammond
"Don't Judge Me" – Kierra Sheard
"There Is God" – Donnie McClurkin
"Not the End of Your Story" (Sunday Best Performance) – Melvin Crispell, III
"Bless Somebody Else (Dorothy's Song)" – Kurt Carr
Verity Presents Celebrate! 2020 is available now.   DOWNLOAD HERE