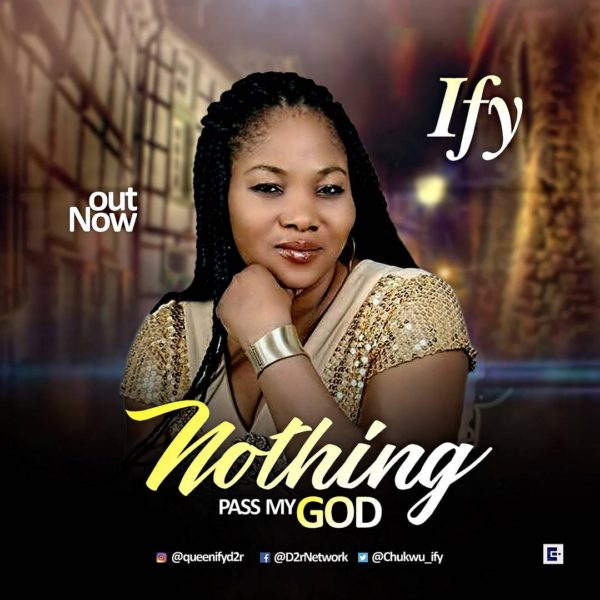 Passionate music minister, Ify testifies to the supremacy of God in her latest single aptly titled "Nothing Pass My God."
Commenting on the new single, Ify, who is also a relationship expert/counsellor and media consultant, said:
"The song came to me when I was at one of the lowest points of my life. I was derided because of childlessness! I was derided because of poverty! In fact, someone looked at me in the face and said to me – "your life is a hopeless situation." At that point that song came, and it consoled me while I went through the wilderness of life and I sang the song in tears for months practically groping through the dark moments I was going through praying and hoping for a miracle. Shortly after that, God gave me a huge turn around miracle. These days I look back and I smile because God used that song to hold me up in faith.
"The song has brought healing, encouragement and succour to many. No matter what you're going through just believe God is far bigger than your challenges. NOTHING PASS MY GOD! I just believe God is behind this song."
Download, Listen, Enjoy and Share!
About Ify
IFEOMA Chukwu is a passionate gospel artiste, with a flair for other arts like TV presenting , interior decor, writing, designing, poetry and fashion. She's also a counsellor with a youth foundation called D2rNetwork – connecting people. She has given birth to over 100 marriages, homes, and relationships. She also helps young people and married people discover themselves.
Sister Ify as she is popularly called is also a motivational speaker. She has won numerous awards as TV host, and as a Gospel Artiste. Notable amongs them are Best New Act (Female) Amen awards, Best Fresh Face (Gbedu awards), Best Gospel Artiste – Female also (Gbedu awards).
Her award winning programme DE MARKETPLACE got her the Most Syndicated TV Business Show, NMNA (Nigerian Media Nite Out Awards), TV Show of the Year BUSINESS – NBMA (Nigerian broadcasters merit award).
Ify has also organised over 30 seminars and youth summits accross the country since 2009. She is the founder LETS TALK WOMANHOOD, D2R NETWORK, Producer/presenter DEMARKET PLACE, HEROES – a celeberation of success, and FINDING YOUR SOULMATE.
She began her musical career as a teenager writing songs, poems, and fictional stories, until her university days at A.B.U Zaria when she joined DVD choir Samaru – ABU Mass – choir, House on The rock Choir, Abuja, kaduna, and calabar.
On getting married, she decided to go solo and began her musical career. Ify's debut album is a 16- track album titled Ify – De Revelation.
Ify is married with 2 beautiful Children – a son and a daughter.