Events
Unscripted Concert With Thobbie | New Jersey Edition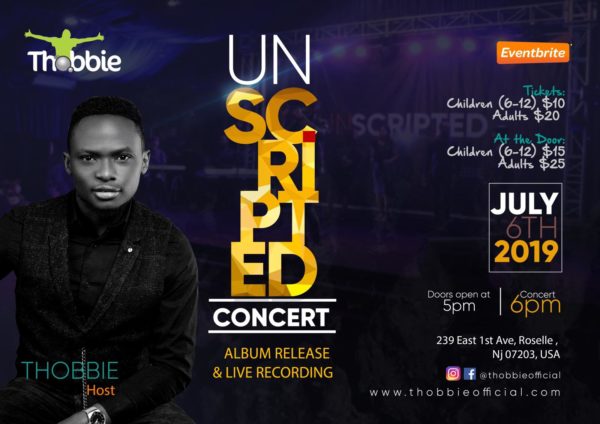 US Based Nigerian Worship Leader and Songwriter, Thobbie presents "Unscripted" Concert 2019 – a live worship experience set to hold in New Jersey July 6, featuring an Album Release / Live Recording.
The "Unscripted" 2018 concert was a great success and it was held in 3 locations; New Jersey (US) and two major cities in Nigeria: Lagos & Abuja. This year's edition promises to be a live changing experience.
Thobbie also just concluded his 'Unscripted' tour in UK which hit London, Liverpool and Wales, followed by a successful media conference for his upcoming NEW CD "Lifted" in Lagos, Nigeria.
See Full Concert Details Below;
Venue: Agape House of Worship 239 East 1st Avenue, Roselle, NJ 07203, United States.
Date: July 6th, 2019
Tickets are Available on Eventbrite, Click Here
For more info visit www.thobbieofficial.com or IG @thobbieofficial